End of the World?
For anyone who has facebook, you would have probably saw the Group
"2012? Seriously? I survived 9/11, 6/6/6, 9/9/9, H1N1 Swine Flu and bird flu BRING. IT. ON"
Jokes and things like it talk about the so-called 'end of the world' often and many films such as 'The Day After Tomorrow,' show us the devastating affects humans could have on our planet!
Yet the bible, a book that draws its fans and critics, predicts certain events that would happen in the 'end times.' The period before Jesus comes the second time and saves His people (Jesus' Second Coming is a separate topic).
So what signs does the bible say will help us understand what is going on?
Before Jesus comes again, he stated many things would occur that was signal His arrival
What did the disciples ask about Christ's second coming?
Matthew 24:3
As Jesus was sitting on the Mount of Olives, the disciples came to him privately. "Tell us," they said, "when will this happen, and what will be the sign of your coming and of the end of the age?"
What were to be the signs on earth of Christ's coming?
Luke 21:25,26
"There will be signs in the sun, moon and stars. On the earth, nations will be in anguish and perplexity at the roaring and tossing of the sea. Men will faint from terror, apprehensive of what is coming on the world, for the heavenly bodies will be shaken.
Luke 21:11
There will be great earthquakes, famines and pestilences in various places, and fearful events and great signs from heaven.
Clearly we have seen these signs fulfilled over many years. Just look at last year. The Haiti earthquake which devastated communities and turned buildings to rubble killed an estimated 200,000 people, it may be as high as 300,000. Tsunamis and other disasters are on the increase too.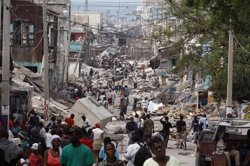 Countries are in distress over war, economic gloom and poverty. Surely there will be an end in sight?
Not only will natural disasters become more frequent as we see on our news networks, but people in general are becoming less moral. Once again we can see all those murders by gangs in our cities, mothers killing their children and other horrible crimes showing more people with less and lesser morals. The bible predicts this too.
2 Timothy 3:1-5
But mark this: There will be terrible times in the last days. People will be lovers of themselves, lovers of money, boastful, proud, abusive, disobedient to their parents, ungrateful, unholy, without love, unforgiving, slanderous, without self-control, brutal, not lovers of the good, treacherous, rash, conceited, lovers of pleasure rather than lovers of God— having a form of godliness but denying its power. Have nothing to do with them.
Look at newspaper headlines. It's all a fulfilment of prophecy. You may say "Well we have always had crime," But it is increasing to alarming rates. Sadly when we hear about crime now, because there is so much of it doesn't have the same 'shock' affect as it did only fifty years ago where to here of a murder was rare. Now it's common.
Although it may seem like a miserable picture God is here to help. God is coming back very soon and He wants you to be with Him.
John 14:2-4
In my Father's house are many rooms; if it were not so, I would have told you. I am going there to prepare a place for you. And if I go and prepare a place for you, I will come back and take you to be with me that you also may be where I am. You know the way to the place where I am going."
This is just a brief overview of 'The End of the World'. If you would like more information, feel free to email connorcartledge@hotmail.co.uk. Don't worry; it'll be a confidential and informal chat.