If the Shoe Fits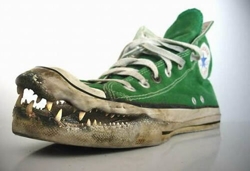 More important than matching your shoe to your outfit is matching your shoe to your activity. Learn how to choose proper footwear for the road ahead.
W hether you're running to catch a train, walking miles on a European vacation, or standing in a grocery line, it's important to have the right shoes. We rarely give it enough thought, but the shoes you choose have a significant impact on your health.
There is no perfect shoe that works for everyone; you have to find the one that works best for your foot, providing the best fit, support, cushion, and flexibility. A good place to start is to choose a shoe designed for your activity.
Benefits of Proper Footwear
By Choosing the right shoe, you will help:
prevent injuries such as tendonitis and plantar fasciitis

prevent blisters and foot pain

decrease the pounding and pressure on joints

protect feet from diabetes-related complications

enhance athletic performance
Running Shoes
When choosing a running shoe, you'll need to consider your build, foot type, gait, and health condition, as well as the amount and terrain on which you'll be running. For help choosing, get an assessment at a shoe store.
Walking Shoes
Consider these three options when choosing a walking shoe:
Motion control shoes are rigid and inflexible. They are a good choice for heavier-set people and people who are overpronators (feet roll inward too much* google for images) or have flat feet

Stability shoes are flexible, durable, and offer good support. They are good for people who do not have severe motion control issues

Cushioned shoes have soft midsoles and less support but are very flexible. They are recommended for people who do not overpronate or need extra support
Hiking Shoes

Be sure to match the hiking shoe to the intensity and duration of the hike:
Lightweight hiking and trail shops are tailored for day hiking and short trips. They are breathable, comfortable, and cushioned

Midweight boots are for short trips involving trail and off-trail hiking. Durable and supportive, they are ideal for when you're carrying a light to moderate backpacking load.

Extended backpacking boots are designed for multiday trips. They are durable and provide ankle and foot protection for when you are hiking with moderate to heavy backpacking loads.
SHOES TO AVOID
If you know you'll be walking quite a bit during the day, don't choose these shoes.
FLIP-FLOPS: They offer little or no support and cause foot problems and leg pain.
HIGH HEELS: Heels can cause a variety of conditions, from corns and calluses to arthritis, knee pain, and back problems.
UGG BOOTS: Uggs and other popular sheepskin wool boots flatten the arch of the foot and make it drop, resulting in foot ankle, and hip problems. They may be cute, but they are not for long distances.